Thank God it's Friday....
And I don't think I have ever meant it more...such a hard week for me...emotional and physical draining without a doubt the hardest in a while...Work was hard this week, a lot of choices and a lot of stress, but it all comes with the territory of being the manager of a lot of people, it usually isn't as bad as this week has been, and not even a weekend, I can only imagine...
Tonight I am sad and I even went and hung out with some friends, but this black cloud over me will not be shaken, sometimes it is this that just makes people throw in the towel and try to disappear for awhile...Get another job or just pack up and move far far away...My week as crappy as it was, wasn't even close to the news I got last night....
This is what this whole post is about....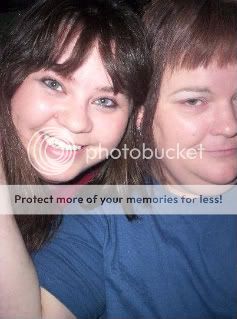 MY SISSY AND ME
Let me start at the beginning as you know from another post my sister suffers from tumors on her thyroid...Well yesterday she went in for surgery to have those removed and even her thyroid if she had to..well her surgery went great and they didn't have to even take all her thyroid out, they left part of it, which just means she doesn't have to be on the strongest strength of the synthoid medicine. The surgery lasted over 5 hours, but it was a success...which we are all very relieved about!!!
The other part and the reason for all the talk about my sis, is this week she has been having headaches and vision problems she is 36 and a mother of 4...she is a strong woman and stubbornly strong willed, she has had this condition before a couple of years ago and they were able to treat it with medicine...okay I am getting ahead of myself...she went to the doctor last week for these symptoms and when she told him of her pain he immediately ordered an emergency CT and MRI...well she called me at work when she had the results from these tests....and I was not prepared to hear her tell me her brain is swollen she has a cyst on her brain...a tumor...she is getting rid of the ones in her throat on her thyroid and now....she has at least one on her brain....Is this what caused the swelling of her brain, the fluid on her brain is doing what they call "washing" her brain. She cannot see anything and she has such bad headaches that the surgery she had yesterday, she wasn't even worried about, she just wanted morphine, to make the headaches stop for awhile...when she had the swelling and fluid on her brain before, they never did a CT or MRI so who knows if last year this cyst was there then...
I just had to write this...this is bothering me so much and I cannot even think... My buddy has been so wonderful,I love him so mucn...he is always trying to find the positive in everything, and I do too, but cannot help thinking the worst and worrying about EVERYTHING...Please keep her in your prayers, she has another appointment on the 7th...and she is on medicine for the swelling and pressure of her brain...so hopefully that will get better so she can at least function....She went to the doctor on Tuesday and wanted to go to work on Wednesday and surgery on Thursday i took her to work but they sent her home...Which I told her they would....but the fact that she went as bad as she is doing and feeling says a lot for my sissy...
Thank you all for listening and for your support....It is so appreciated and thank you for praying for my sister...
cheers to new beginnings,
Irene